Travelling by ferry in Greece 2020
On the 15th of May the Ministry of Shipping published new regulations starting Monday 18th of May until Monday, 15th of June 2020 regarding ferry travel.
When will you be able to travel?
As per the latest information, travel restrictions by road will be lifted as of Monday 18th of May. Travelling to the Greek islands is currently limited to owners and employees of businesses that have reopened, but is expected to begin domestically as of Monday 25th of May.
Check the latest ferry schedules and stay up-to-date by downloading NISEA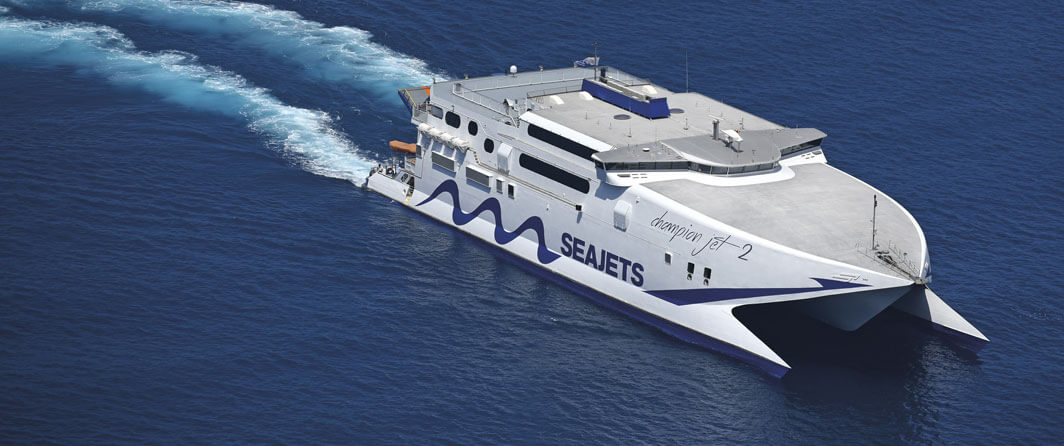 Will the ferries operating in Greece be at full capacity?
Ferries will be allowed to carry up to 50% of its total passenger capacity (defined by the ship's size and preset safety limit) or up to 55% if the ship has cabins additionally. All ship specifications can be found in the app when choosing your journey in NISEA
What should passengers travelling by ferry know?
Before embarking the ship, passengers will have their temperature checked by trained crew of the ship
Passengers will also need to fill a specific questionnaire that will be kept for the record from the ship company (this questionnaire can be found online – example).
All passengers must maintain at least 1,5 metres distance between each other while embarking, disembarking and onboard/during the trip of the ship.
Cabins can only be used by 1 person unless used by a family (up to 4 people) or people with disabilities and their escort.
All passengers and crew of the ship will have to wear masks (cloth face mask is suggested).
NPHO (National Public Health Organisation) documents, video instructions and recorded messages with information about the measures will also be available during the trip
How will the ferries be prepared?
Ship crew will be specifically trained regarding the new measures.
Personal hygiene measures and protection will be followed and dedicated spaces within the ferry will be equipped with antiseptic products.
Ships will always be cleaned and sanitised before and after the trip.
Ships will always use proper ventilation and climate control measures.
In the case of a suspected case, specific rules will have to be followed (person(s) will be isolated in a dedicated room, and will be disembarked on the next available port which will have the required treatment conditions and force)
What are ferry policies between Greece and Italy?
Regarding Greece and Italy ship trips, passengers will have their temperature checked and will need to fill a specific health statement before embarking on your ship journey.
What are the bars and restaurants policies in Greece?
Bars and restaurants will have specific rules to be followed (Pending further announcements from the Greek authority).
Hotel Procedures
When will hotels open in Greece?
As per the latest information, hotels operating all year-long are opening and welcoming visitors according to government measures as of the 1st of June. On June 15th the official Touristic (high) season begins, therefore seasonal hotels will be able to open then as well and welcome visitors according to government measures.
What protocols will hotels need to follow?
Strict protocols for clearing and sanitising all the areas and rooms of hotels are being conducted. Specific plans and "routes" for entering or exiting the hotel are also being considered for guests to not come in close contact. Room allocations are also adapting to help keep guests at safe distances.
The Ministry of Tourism will be leasing accommodation in every tourist area of ​​the country, which will function as a "quarantine hotel". In the case that someone is found to be a carrier, they will be able to be quarantined there.
All Greek accommodation units and hotels will be obliged to have a contract with a doctor, who will determine, either in person or remotely (telemedicine), whether someone should be tested for the coronavirus. All Covid-19 tests will be performed within 6 hours at the latest so that anyone who is tested to be positive can be transferred to a "quarantine hotel".
Hotel staff will receive special training regarding special hygiene rules and self-protection.
Hotels will not be allowed to provide buffets.
Organised Beaches
The organised beaches will operate under the following protocols:
It will be mandatory to record the number of attendees in organised beaches controlled at the entrance.
The maximum number of bathers is 40 people per 1,000 sq.m.
The minimum distance between the axles of the umbrellas is set at 4 metres, while the minimum distance of 1 metre is defined between the perimeter of the shadow of two umbrellas.
Up to 2 sunbeds can be per umbrella, with the exception of families with minor children.
The minimum distance between two sunbeds on different umbrellas is set at 1.5 meters.
Canteens, refreshments, coffee bars may operate exclusively with take away. Their products are sold only packaged and their preparation in the area is prohibited. It is also forbidden to sell and sell alcoholic beverages.
Delivery is prohibited and it is not allowed to develop table seats.
The minimum distance between customers waiting to be served is set at 1.5 meters.
There is a strong recommendation for mask use by employees. The staff of the organised beaches are obliged to disinfect the sunbeds – chairs after each customer.
A relevant programme for the regular disinfection of the sanitary facilities which will be displayed for inspection, must be posted.
It is also the responsibility of the bather and mandatory to always place a towel on the sun lounger.
Team sports with physical contact are prohibited.
The new Ferry App!
All updates & news at the palm of your hands! Track you ferry live and book your tickets! At no extra cost!
Download NISEA Now!